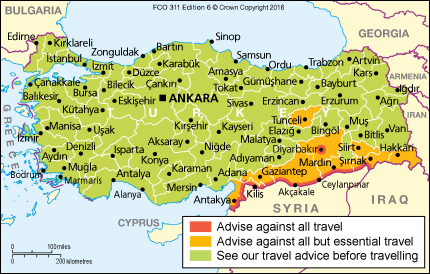 The Foreign and Commonwealth Office (FCO) advise against all travel to within 10 km of the border with Syria and to the city of Diyarbakir.
The FCO advise against all but essential travel to:
the remaining areas of Sirnak, Mardin, Sanliurfa, Gaziantep, Diyarbakir, Kilis and Hatay provinces
Siirt, Tunceli and Hakkari
Security force operations against the PKK and related groups are ongoing in Diyarbakir. The FCO advise against all travel to the city of Diyarbakir. Similar operations have taken place in Sirnak and Hakkari. You should take extreme care in these areas. See Safety and security
The situation in Turkey has calmed following an attempted coup overnight on 15-16 July 2016. The security environment, however, remains potentially volatile. Flights to, from and through airports in Turkey have returned to normal. Check with your airline or travel company if you need more information before you travel.
If you're in Turkey, you should be vigilant, follow the advice of the local authorities, closely monitor travel advice and contact your airline or travel company for more information. In Istanbul and Ankara demonstrations may occur at short notice. You should be vigilant, particularly in areas where crowds may gather, and stay well away from any demonstrations. Take sensible precautions if you're near any military or security forces.
The FCO is aware of the following rallies:
countrywide rallies may take place on Sunday 7 August 2016, including one in and around Yenikapı in Istanbul
President Erdoğan has announced a state of emergency for 3 months from 21 July 2016. The state of emergency is focused on those involved in the attempted coup and isn't expected to impact tourists.
In some busy areas, especially Istanbul, the Turkish authorities are stopping members of the public to conduct ID checks. There is also a larger than usual number of police checkpoints on main roads across Turkey. You should co-operate with officials conducting checks, and keep your passport and a printed copy of your e-visa or your residence permit with you at all times.
Security operations to detain alleged perpetrators continue across the country. You should take extra care in areas where security operations are taking place.
Coastal resorts haven't been affected by these security operations, but security force activity may be visible from some resorts.
The FCO is aware of the situation regarding university employees. The presidency of the Higher Education Council has issued a revised note indicating that the restrictions on leave and travel don't apply to foreign nationals. You should check with your employer directly before taking leave or making any travel plans as the implementation of the restrictions is subject to the discretion of individual institutions.
Turkish and dual nationals are being asked to produce a letter from their employers and a social security document when leaving the country. These requirements may be subject to changes and amendments with little or short notice. Enhanced checks for Turkish nationals may lead to delays or long queues at foreign national desks. You may need to turn up at the airport earlier than normal to get through these possible delays, particularly at Istanbul Atatürk Airport.
Over 2,500,000 British nationals visit Turkey every year. It's generally safe to travel but you should take additional safety precautions; you should be alert to your surroundings and remain vigilant in crowded places popular with tourists.
Terrorism
The threat from terrorism remains high. Terrorist groups, including Kurdish groups, Daesh (formerly referred to as ISIL) and far left organisations, continue to plan and carry out attacks. Further attacks are likely. Terrorist groups, including Daesh and the Kurdistan Freedom Falcons (TAK), have publicly threatened to attack tourist sites in Turkey. You should take extra care in public places – particularly those visited by foreigners. Be vigilant, follow the advice of local security authorities, monitor media reports and keep up to date with this travel advice.
On 12 January 2016 there was a suicide bomb attack against tourists in Sultanahmet in Istanbul in which 10 people died. On 19 March 2016 a similar attack against tourists on Istiklal St in Istanbul killed 4 people.
On 17 February 2016 a large bomb attack near a military barracks on Eskisehir Road in Ankara killed 28 people. On 13 March 2016, a similar attack killed over 30 people at Kizilay Square in central Ankara.
On 27 April 2016 there was a suspected suicide bomb attack at Bursa Ulu Mosque. The bomber was killed and 7 people slightly injured.
On 1 May 2016 a bomb attack at the Central Police Station in Gaziantep killed two police officers and injured 23 others.
On 7 June 2016 a bomb attack in the Vezneciler area of Istanbul killed 7 police officers and 4 civilians. 36 people were injured.
On 28 June 2016 Ataturk International Airport in Istanbul was attacked. More than 40 people were killed.
Attacks are likely to target the Turkish state, civilians and demonstrations. Nevertheless, it's increasingly likely that some attacks will also target western interests and tourists from western countries, particularly in the major cities, as was the case in Istanbul on 12 January and 19 March 2016. To date most attacks in Turkey have taken place in the south and east of the country and in Ankara and Istanbul. There is a heightened risk of terrorist attack against the aviation industry in Turkey.
Turkish authorities have successfully disrupted attack planning in the recent past. The Turkish authorities have said that security has been tightened in response to recent attacks. Nevertheless, further attacks are likely, could be indiscriminate and may target or affect places visited by foreigners.
See Terrorism.
Visas
British nationals need a visa to travel to Turkey, except for cruise ship passengers with 'British Citizen' passports who arrive at sea ports for tourist visits to the port city or nearby cities, provided that the visit doesn't exceed 72 hours.
If you're visiting Turkey as a tourist or on business, get an e-Visa online before you travel. Only use the official Republic of Turkey e-Visa website. Avoid unauthorised websites as they may charge an additional fee. Some unauthorised websites have issued fake e-Visas.
If you don't have an e-Visa you can still get a visa on arrival for £20 in cash, although the visa on arrival service is due to be phased out. Getting an e-Visa from the official website before you travel will avoid possible problems or delays at the Turkish border, or when boarding your flight in the UK. See Entry requirements
Demonstrations
Since July 2015, demonstrations have occurred in cities across Turkey associated with renewed hostilities between the Kurdistan Workers' Party (PKK) and Turkish security forces in south-east Turkey. Police have used tear gas and water cannon extensively to disperse protests. You should avoid all demonstrations.
Travel insurance
Take out comprehensive travel and medical insurance before you travel.
First World War commemorations
If you're travelling to commemorate the First World War centenary, see this information and advice page to help plan your trip and make sure it's safe and trouble free.
Earthquakes
Many parts of Turkey are subject to earthquakes. An earthquake of magnitude 6.9 occurred on 24 May 2014 in the northern Aegean Sea. See Natural disasters